Building and Pest Inspection in Melbourne Inner South East - Brighton, Glen Iris, Caulfield North, Malvern East and surrounds.
Simon joined Resicert in 2017 qualifying in all aspects of building and pest inspections. His career prior to Resicert commenced in the UK, from where he set to broaden his horizons; this resulted in extensive travel and extended residence in South Africa and the USA. It was here that he gained insight in the Oil and Gas, Mining & Minerals and Infrastructure industries in design and project management.
It is with the benefit of this experience that Simon understands how important it is to have a structured process orientated approach to the inspection and review of your key assets, ensuring that you receive an accurate assessment to enable you to make informed decisions.
Testimonials
Simon was professional in inspecting my built deck. He pointed out a couple of things that needed to be fixed and once they were rectified he issued the inspection report.
Claudia & Craig - QLD
Found no yukkies - I was absolutely delighted. Suggested removal of timber stored under the house so that nothing can get in it in the future.
Vivyenne - QLD
Great service, explained what he was doing and why. Answered all my questions with great patience so I understood exactly what was happening. Nice person to have in your home.
Vivyenne - QLD
Great inspector providing quality feedback and concise reports. Very happy.
Ben - QLD
Professional & informative.
John - QLD
Simon was wonderful! Not only prompt service but took the time to come to a Regional area. Very detailed report taking the time to explain in layman's terms to a novice. I would highly recommend! Communication with keeping me in the loop.
Diane - VIC
Simon was great, very friendly and efficient. We only had 3 days to complete the inspections which Simon carried out. I called us straight after with his findings and we had the written report the next day. I couldn't ask for more.
Jodie - VIC
Easy to deal with. Prompt communication and scheduling.
Krishneel - VIC
Great service, Simon is very professional and very detailed he provided me with peace of mind that the property I was buying was up to standard, thank you, Simon, for all your support and assistance to help me buy a great home. I will be sending my recommendations to family and friends.
Paul - VIC
Excellent service provided.
Angie - VIC
Very first time I spoke to Simon he was full of all the information and advice I was after. Building inspection was done on the day we needed it to be and Simon was very happy to assist in any time that would suit us. The building report itself was very informative with pictures included. Exceptionally prompt responses. Great job would have no doubts whatsoever in recommending Simon and Resicert team. Thank you for making these processes way easier than I thought it would be. Excellent!
Angie - VIC
Simon was wonderful to deal with very professional and informative. He was always pleasant and nothing was too much.
Helen - VIC
Raised concerns we hadn't noticed. Really helped us decide not to bid at auction.
John & Susan - VIC
Both reports were professional, helpful and insightful. Confirmed many of our concerns. On balance we decided this property was not for us. The reports helped us reach a decision.
John & Susan - VIC
Excellent personal attention. Able to meet our very tight timelines.
Jeremy - VIC
Easy to arrange such a friendly service. The report was not only thorough but full of thoughtful advice and suggestion of potential issues or concerns moving into the future. I'm sure this will prove to be a very valuable document - well worth its value.
Danny - VIC
I had every confidence that Resicert would be thoroughly professional and efficient in accessing, performing and delivery of the report. The response was immediate and completed within a few days of the request. Simon is a true professional also providing verbal feedback to the report.
Mary - VIC
Simon was polite and was able to complete inspection quickly and get report back quickly also.
Claire - VIC
Very professional and knows what he is doing, detailed in the report and very satisfied with the service.
Elaine - VIC
Brilliant quick and efficient!
Jade - VIC
I had great communications with Simon throughout our dealings. He was very prompt in attending to the inspection and did a thorough check on the property according to our points of concern.
Dino - VIC
Extremely fast and efficient service would definitely use again.
Nicole - VIC
Detailed and pointed potential future risks.
Steven - VIC
Prompt service at short notice. Comprehensive reports.
Steven - VIC
Great communication from the beginning, always available for any questions. Very detailed report.
William - VIC
Excellent! Simon was given a very detailed description of the inspection and completed all the necessary things to ensure everything was in working order, Simon also provided a detailed report with everything that passed and also needed attention, was very happy with his feedback.
Paul - VIC
Everything explained thoroughly.
Michelle - VIC
Very prompt & efficient service.
Michelle - VIC
Excellent communication and prompt service from Simon.
Brian - VIC
Friendly, efficient and affordable. I would definitely recommend your business.
Jason - VIC
The service was excellent, the report was written as committed and in a timely manner. Overall wonderful.
Nasima - VIC
Simon provided a comprehensive report on the property with pictures and notes.
Joe - VIC
Simon was very helpful and kept me fully informed before the inspection took place. He called me immediately on completion of the inspection to give me a verbal update before I received the very detailed written report. Simon was very helpful in answering my questions after I had read through the report and offered advice when I asked about preventative pest treatment for the future.
Cath - VIC
Simon was very helpful and kept me fully informed before the inspection took place. He called me immediately on completion of the inspection to give me a verbal update before I received the very detailed written report. Simon was very helpful in answering my questions after I had read through the report.
Cath - VIC
Done very promptly, the report issued promptly and was more comprehensive than expected.
Ian - VIC
We couldn't fault the whole process, Simon was great to work with.
Bec - VIC
Simon was thorough, communicated well and actioned the inspection in great time.
Liam - VIC
Friendly, prompt, efficient service. Included a detailed report that was easy to read, with exactly the level of information I was seeking. Very satisfied, and Simon was delightful.
Janet - VIC
Punctual, courteous and easy to deal with.
Peng - VIC
Great Service, precise and on time!
Babak - VIC
We found Simon extremely helpful. He enabled us to feel at ease. The report was detailed (with lots of photos) and contained plenty of advice for future prevention and control.
William - VIC
It was an absolute pleasure to deal with Resicert Property Inspections. Simon contacted me immediately and walked me through the entire pre-purchase inspection process. He was extremely helpful/understanding, took the time to explain the inspection and submitted the report within 48 hours. The report was very thorough and easy for a novice to read. Their price was extremely reasonable and would gladly recommend this service to anyone in the future. They definitely took the stress out of purchasing a home.
Noel - VIC
The property was thoroughly checked for any nasties present. Thankfully, none were found. He pointed out future suspect areas and offered solutions. All in all, a job well done!
Arjun - VIC
He was able to juggle appointments to inspect my property earlier than originally planned. He did so according to the brief and then followed up with an immediate phone call to advise of his findings. The report followed later in the week. The whole process was easy and Simon personally is a very easy person to talk to and talked through his findings in layman's terms. Well done Simon.
Jim - VIC
Very comprehensive and practical report.
Jenny - VIC
Simon was great. Found things I would have never thought of looking for. Thank you, Simon!
Amber - VIC
Very good! Your building inspector had a friendly present manner over the phone and expanded in layman's terms how the inspection was to be conducted.
David - VIC
Simon was very professional. I have been getting extensive updates on a daily basis. Excellent work thanks!
Steven - VIC
Amazing service from the first phone call to the end of dealings. Very thorough, great price, fantastic service, all completed within the agreed timeline. I would happily recommend Resicert to anyone requiring a Building Inspection. Thank you Simon for making this process run so smooth.
Kim - VIC
I dealt with a very professional inspector named Simon Mannion. He has great communication skills and left no question unanswered.
Brian - VIC
Simon was extremely thorough and showed me his concerns with the building. He then gave us a report complete with photos explaining what and where they were.
Leanne - VIC
Previous
Next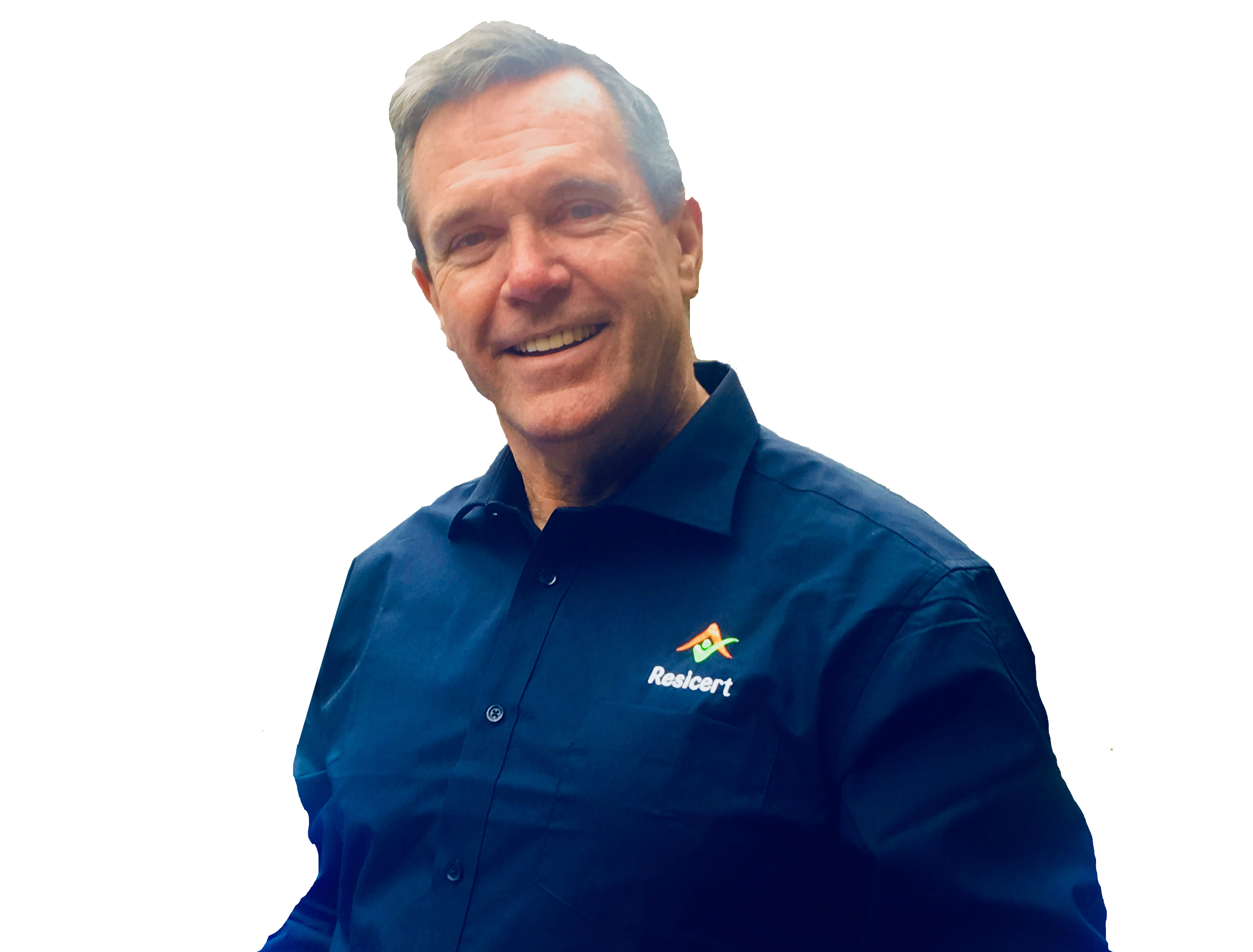 Get in contact with Simon