Building and Pest Inspection in Brisbane Outer South East - Ormeau, Crestmead, Shailer Park, Slacks Creek and surrounds.
As a licensed property, timber pest and pool safety inspector, Aaron provides the best quality inspections available, communicating to parties professionally and fast. Taking pride in his work, his inspections are 100% backed by Resicert's money-back guarantee, something not many can offer.
Attention to detail is a quality needed in Queenland's best inspectors and proof of this can often be found in their hobbies and background. Aaron is no exception, having flown light aircraft, skydived and made a name for himself managing infrastructure, people and projects in the technology and manufacturing industry.
But, his family roots are in the building industry and the property market called, so he attained all his accreditations. Aaron is now a popular figure in Brisbane's outer southeast, rapidly gaining a reputation with some of the area's best agents and mortgage brokers.
When he's not busy doing inspections, he spends quality (and fun) time with his wife and two boys. A love of cooking keeps the family guessing what is next on the menu, now that dad has more time to experiment with new and interesting foods.
Aaron Tolhopf is fully licensed and insured (QBCC License No. 1317390)
Resicert allows me to spend more time with my family. When I am at work I meet amazing and interesting people, with the privilege of being invited into peoples' homes to experience all kinds of interesting building styles and techniques, old and new.
Testimonials
Very professional and quick.. report very detailed.
Sanela - QLD
Outstanding Service, fast, and detailed reporting!
Dirana - QLD
Aaron was great, thorough and very accommodating.
Adam - QLD
Very detailed report and easy to understand. Worth every penny.
James - QLD
Aaron was very easy to deal with and was on the front foot from day one in dealing with other vendors agents to book in inspection promptly, keeping me the client in the loop about everything. The report was very thorough and was delivered within 24 hours.
James - QLD
Very knowledgeable.
Michael - QLD
Very professional.
Dave - QLD
Fantastic communication and response time.
Ash - QLD
The inspection was thorough and Aaron was professional in every way and very helpful.
Denise - QLD
Great communication and easy to deal with. Swift to arrange a time to inspect.
Jade - QLD
Aaron was very thorough and explained everything, answered all questions, told you things you hadn't even thought of, follow his tips and you will save money in the long run in repairs later, Aaron made you feel comfortable and I could tell he knew what he was doing and saying, would highly recommend Aaron to anyone else and would use him myself again for sure.
Stephen - QLD
Aaron was amazing! The inspection went for over 2 hours! It was in-depth and no stone was left unturned. The report was in great detail. We highly recommend him and Resicert! The real estate agent also said they will using him in the future.
Josephine - QLD
Professional and reliable advice!
Mick - QLD
We were very pleased with the inspection and the reports.
Anna - QLD
We were very pleased with the inspection and the reports. Aaron was also very easy and great to deal with.
Anna - QLD
Aaron was that wonderful combination of professional yet down to earth and a pleasure to deal with. Not being familiar with the building and pest inspection process, Aaron answered all of my questions in a manner I could easily understand. He was prompt and efficient and I would highly recommend him to anyone requiring house inspections.
Natasha - QLD
We would rate the service highly and will be using your company for annual pest control checks.
Dave - QLD
Aaron was both very helpful and very thorough. We were very pleased with the results and the format that was used for the report.
Dave - QLD
Aaron's report was detailed and very quick.
Dave - QLD
Same as the building inspection. Pointed out anything that stood out. The good and the bad. Explained them in detail so we had all the information we required.
Craig - QLD
Aaron was fantastic. Thorough and explained everything. The friendly attitude so you feel comfortable chatting with him. Was good enough on the inspection when selling that we booked him for the purchase of our new place.
Craig - QLD
Pointed out some tricky things to monitor.
Denis - QLD
Aaron is a very competent inspector - will recommend. Apart from the excellent report, he explained everything in site in simple words.
Denis - QLD
Again it was great to have as we know that a pest inspection other than yours had not been done on the property for a very long time as we acted on the report.
Nora - QLD (Pest)
Aaron was very prompt and thorough with his building inspection. He arrived on time and the communication was great. Some areas he was unable to view but he made notes of this in his report and was happy to go over any questions if I had any.
Jennifer - QLD
Pest inspection was also great. He did a thorough search of the property as well as the garden and took detailed notes and images of anything of concern. Very happy with the service provided. Thank you!
Jennifer - QLD (Pest)
Very thorough inspection and report. Aaron was very pleasant and knowledgeable. He explained everything.
Liz - QLD
The quality of my report was A1. Communication top notch. Thank you to Aaron for being so easy to speak with and his prompt report.
Lyndell - QLD
Fantastic! Information was upfront and true.
Travis - QLD
Service was great. As it was my first time information was key.
Travis - QLD
Great service!
Aaron - QLD
Very friendly, very professional, quick responses and easy to understand! Thanks, Aaron!
Jayden - QLD
Aaron was friendly, helpful, knowledgeable and professional. He explained things in a way that was easy to understand.
Katrina - QLD
Very comprehensive report. Very quick. Easy to read! The inspector was happy to chat and explain everything during the inspection.
Dougie - QLD
We discovered White Ants painting the house to prepare it for sale. Aaron Tolhopf was flexible and went out of his way to work in with our schedule. He identified the extent of the problem and found the areas we need to repair.
Brett - QLD
Friendly, understanding, thorough, detailed, and competent timely booking.
Mark - QLD
Aaron was very thorough which I really appreciated and told me everything that was of concern.
Peta - QLD
Aaron was meticulous and poked and prodded everything to be sure. Thanks.
Greg - QLD
Aaron was prompt and very professional. He explained things clearly to all stakeholders.
Greg - QLD
Aaron was very clear and to the point when explaining the results from his inspection. He was very easy to deal with and prompt with his written report.
Adam - QLD
This is the 2nd time I've used Resicert and they were just as good as the first time. Aaron took pride in his work and showed me any problems he picked up on. A detailed report was emailed to me very quickly. Would recommend Resicert to anyone.
Kerry - QLD
Aaron was great to deal with, friendly and professional. He did a thorough inspection, gave us verbal feedback at the inspection and a very thorough report within 24 hours. He was also happy to answer any questions we had.
Helena - QLD
Aaron was so great and friendly to deal with from the first phone call! So thorough with the inspection, quick and very detailed with the reporting! Would highly recommend.
Courtney - QLD
Great communication.
Peter - QLD
Aaron has once again gone above and beyond in his service of inspecting our new to be home in Victoria Point. He is very professional and friend to deal with and makes sure he covers all areas of the work at hand. Keep up the great work Aaron and thanks a million for your honest work.
Joe - QLD
Aaron was very friendly, the inspection was thorough and the report was easy to understand.
Aaron - QLD
Very professional and very detailed inspection on the property.
Cindy - QLD
I'm very happy that I chose to use Resicert. Aaron booked the appointment to suit me. He was very professional and answered any questions I had. He was friendly on arrival and I would definitely recommend him to anyone.
Kerry - QLD
We are very happy with our report. The inspector on the day did a very good job. Told us in person what some of the issues are and the severity of it. He was easily approachable. Same applies for the pest inspection section.
Robert - QLD
Great service! Very detailed inspection and report given.
Christie - QLD
What an amazingly thorough service! Aaron was great to deal with and so fast to respond to messages and organising the inspection. Could not be happier with the service.
Clara - QLD
I was impressed by how thorough he was at checking EVERYTHING and nothing was rushed. Aaron explained all he found to me in detail. Overall a brilliant job!
Len - QLD
Very friendly service, Aaron was great. Informative and thorough. Not the cheapest, however, would happily go with them again.
Joshua - QLD
Aaron was the BEST! Super friendly and very professional. Great Job!
Garry - QLD
Aaron showed up on time to do the inspection. He was very thorough and discussed any findings with us at the time of inspection to make sure we understood what he had found. Report was made available very quickly. Would highly recommend Aaron to anyone!
Darrell - QLD
Aaron was very brilliant! He did an amazing job and his attention to detail was fantastic! If you want a hard-working, honest and reliable man, Aaron is your guy.
Leanne - QLD
Aaron was early to the job I had a chat before he started. The building and pest was 2 hours and he showed me relevant problems on site. The report was very comprehensive and the photos on all the small and large problems are very helpful to make up my mind!
Greg - QLD
Aaron was great and very thorough throughout the whole inspection. As the home buyer I had lots of questions for him and he was very helpful & happy to answer.
Nigel - QLD
Aaron carried out his job with the greatest professionalism and the report was emailed to us promptly. He listed in detail any issues and was able to explain to us if needed.
Melissa - QLD
Once again, we have used Resicert and once again they have not failed to impress. Aaron is fantastic and he managed to squeeze my appointment in at last minute notice for the following day. He always has a great attitude and is always very friendly and polite. The reports are extremely detailed and give great recommendations. They are thinking about the customer at all times along with other interested parties (real estate/sellers) to ensure they are comfortable during his inspection and has great manners too.
Rachael - QLD
Aaron provided a very thorough inspection report, and am happy that I chose to go with Resicert for our inspection.
Holly - QLD
Excellent service provided by Aaron, a thoroughly professional investigation with a quick phone or onsite appraisal, followed by a detailed written report with recommendations. Very happy.
Paul - QLD
Aaron was very thorough with his inspection and found a lot of things we would never have thought to check.
Andrew - QLD
Aaron did an amazing job, would recommend to anyone!
Ladeen - QLD
We found Aaron to be extremely professional and helpful and brilliant to work with. Would highly recommend his services.
Trevor & Joanne - QLD
Aaron was fabulous. He answered all my questions and responded quickly when I had other questions after the report was sent. Very professional.
Heather - QLD
Aaron was quite helpful and thorough and explained things in good detail as well as explaining possible alternatives.
Les - QLD
Previous
Next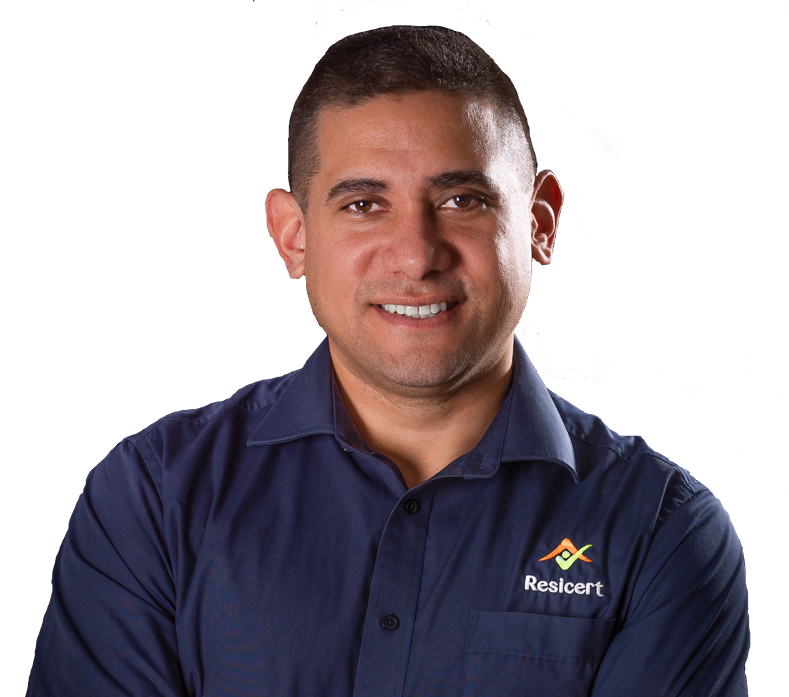 Get in contact with Aaron