Brisbane North - QBCC Licence No. 1317390
Coming from a building background, Andrew worked for twenty years for a large hardware company, firstly in sales progressing though to national roles in project management and multi site management of big box home improvement stores. More recently he successfully run and established his own property maintenance business mainly servicing rental properties.
Being passionate about all things to do with property, and I enjoy working with people. I decided to provide a service which will assist people as they undertake their own personal property journey, having come from a family background in building and renovations, it seemed a perfect fit to continue my own business with the vast support of the Resicert team and systems which are second to none.
Testimonials
Andrew was fantastic to deal with. I left everything to the last minute and Andrew moved things around to accommodate the inspection. I was kept informed all the way and received call to let me know of what he had found and a very prompt and thorough inspection report. Thanks to Andrew and the team at Resicert.
Barry Ryan - QLD
Andrew was great and he did inform me all about the inspection and what he has found and where possible even showed us where the issues was.
Ehsan Javanmardi - QLD
Excellent service with a straight talking inspector. Provided a full 20 page report with clear photos and description that anyone could make sense off. Found 1 cracked roof tile, Andrew took it upon himself to replace the tile with a spare he found at no extra cost. I'm very impressed and will be recommending to everyone.
Conor Daly - QLD
Andrew was very friendly and knowledgeable and made the effort and time to explain all the details on the report. Will definitely be contacting Andrew for future QLD purchases.
Hung Luu - QLD
This is the second time I've used Resicert for our inspections. I am happy with their work and will use them again if need be, would recommend to them to anyone needing building and pest inspections.
Nathan Woods - QLD
Professional, timely and provided excellent customer service and feedback.
Zane - QLD
I believe that it was an excellent inspection and relayed the information back perfectly.
Trisha Coster - QLD
Very professional approach with the personal touch.
Bruce Townsend - QLD
Very detailed and useful report. Andrew was never too busy to discuss issues contained in the report, very punctual and knowledgeable
Emma Henderson - QLD
Previous
Next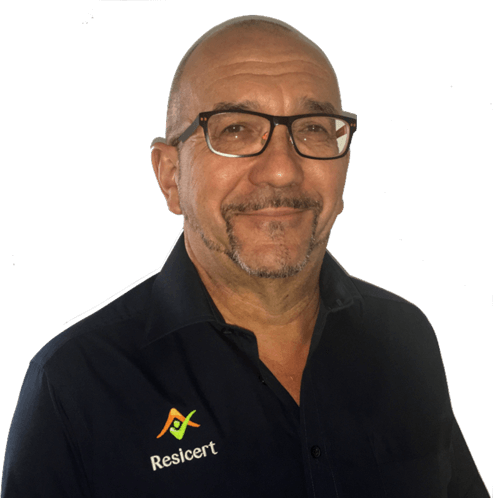 Get in contact with Andrew