Building and Pest Inspection in Brisbane Outer North - Caboolture, Morayfield, Deception Bay, Narangba and surrounds.
Andrew's building background led him to becoming a fully qualified building inspector after working for twenty years for a large hardware company. A national role in project management and multi-site management of big box home improvement stores followed a successful career in sales, teaching him the value of customer service.
More recently, he successfully run and established his own property maintenance business mainly servicing rental properties.
Decades of experience in the property industry ensures he provides thorough and detailed reports that are easy to read. Unlike most, Andrew's inspections are supported by the Resicert 100% money back guarantee.
Andrew Teston is fully licensed and insured (QBCC License No. 1317390)
Being passionate about all things to do with property, I enjoy working with people. I decided to provide a service to assist people as they undertake their own personal property journey, having come from a family background in building and renovations. Resicert is a perfect fit to continue my own business with the vast support of the Resicert team and systems, which are second to none.
Testimonials
Thank you for a job well done and promptly.
Paul Ogunah
Very detailed, helpful report and communication.
Chris Tynan
Inspection was booked and carried out quickly. The reports were very detailed and we received them within a day or so.
Deborah Hastie
Andrew was great and I was very happy with the thorough, detailed report provided. It really gave me an insight into everything that needed to be done to the home and make sure there were no nasty surprises waiting for us. Would happily recommend Andrew to all.
Cameron Chamberlain
Andrew was excellent. Very helpful, walked me through everything and was patient with all my questions.
Jeff Paton
Andrew is very thorough. Will use him again for sure.
Nicky Paull
Very happy with Andrew's service! The report was very detailed and all explained well.
Karen Dorman
Andrew was very pleasant and appeared to be very thorough.
Gabrielle Chisholm
Andrew was great. He explained things so easily and gave advice when asked. Very thorough.
Danielle Beavan
Very pleased with the level of service provided by Andrew.
Jack Tunbridge
Andrew went above and beyond what we have had before.
Mark Camilleri
I've had several inspections done over the years and I actually found an old one the other day, it was two page document that had no pics and no recommendations and the 1st page was all their rules and regulations so Andrew was great, thorough and the report was very detailed. I've already used him twice and would use again!
Renee Tragis
I felt confident that Andrew was a thorough practitioner.
Lesley Kendall
Andrew was fantastic to deal with. I left everything to the last minute and Andrew moved things around to accommodate the inspection. I was kept informed all the way and received a call to let me know of what he had found and a very prompt and thorough inspection report. Thanks to Andrew and the team at Resicert.
Barry Ryan - QLD
Andrew was great and he did inform me all about the inspection and what he has found and where possible even showed us where the issues was.
Ehsan Javanmardi - QLD
Excellent service with a straight talking inspector. Provided a full 20 page report with clear photos and description that anyone could make sense off. Found 1 cracked roof tile, Andrew took it upon himself to replace the tile with a spare he found at no extra cost. I'm very impressed and will be recommending to everyone.
Conor Daly - QLD
Andrew was very friendly and knowledgeable and made the effort and time to explain all the details on the report. Will definitely be contacting Andrew for future QLD purchases.
Hung Luu - QLD
Very detailed and useful report. Andrew was never too busy to discuss issues contained in the report, very punctual and knowledgeable.
Emma Henderson - QLD
Previous
Next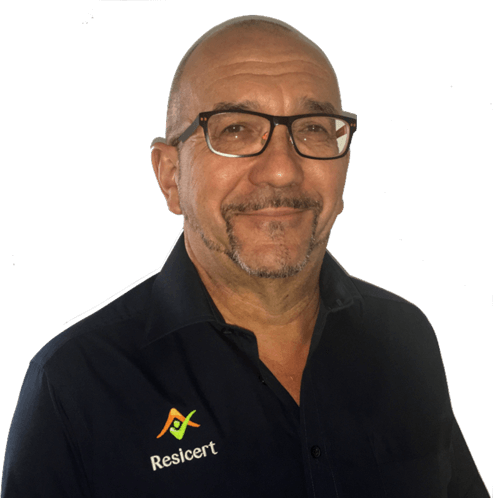 Get in contact with Andrew