Building and Pest Inspection in Brisbane Outer North - Caboolture, Morayfield, Deception Bay, Narangba and surrounds.
Andrew's building background led him to becoming a fully qualified building inspector after working for twenty years for a large hardware company. A national role in project management and multi-site management of big box home improvement stores followed a successful career in sales, teaching him the value of customer service.
More recently, he successfully run and established his own property maintenance business mainly servicing rental properties.
Decades of experience in the property industry ensures he provides thorough and detailed reports that are easy to read. Unlike most, Andrew's inspections are supported by the Resicert 100% money back guarantee.
Andrew Teston is fully licensed and insured (QBCC License No. 1317390)
Being passionate about all things to do with property, I enjoy working with people. I decided to provide a service to assist people as they undertake their own personal property journey, having come from a family background in building and renovations. Resicert is a perfect fit to continue my own business with the vast support of the Resicert team and systems, which are second to none.
Testimonials
Thorough report thanks to our incredible inspector who accessed every possible point through crawl spaces? Not a job for the claustrophobic! For a more invasive inspection, more testing was recommended and treatment advice was also given. Could not fault!
Melanie - QLD
Very thorough and honest report. Friendly, punctual, and knowledgeable inspector Andrew. Could not fault!
Melanie - QLD
Meticulous and thorough. Well worth the effort to get done!
Khris - QLD
Very meticulous! Things I would not have thought about were all checked!
Khris - QLD
Extremely thorough and very professional.
Jade - QLD
Everything was great.
Charlie - QLD
Thanks for responding so quickly to our urgent need for a building inspection.
Katherine - QLD
Great advice on what to look for in the future as well as some ideas for the interim.
Reese - QLD
Thorough and personable.
Reese - QLD
Fantastic and thorough work by Andrew.
Wayne - QLD
Everything was carried out very satisfactory great service.
Jim - QLD
Friendly and professional.
Mark - QLD
Quick response and flexible in the booking time.
Michelle - QLD
Prompt and very helpful. Comprehensive report.
Michelle - QLD
Easy to deal with, fast, and informative.
Dianne - QLD
Andrew Teston was professional and friendly! He did a thorough job and took time to answers all of our questions onsite, we are really happy customers!
Sehame - QLD
You have done a brilliant and even the real estate agent who was present on behalf of me was surprised when you identified the faults and showed it to the building manager. Thanks for a brilliant service.
Claude - QLD
Comprehensive inspection report and took the time to explain all aspects of the report.
Liam - QLD
Easy, fast, and good service for a first home.
Jess - QLD
Easy - easy to contact, easy to deal with, and extremely efficient. I would definitely recommend it.
Jodie - QLD
Andrew went into detail to explain and show us issues with the property and explain what action needed to be taken.
Katie - QLD
Andrew was extremely thorough in the inspection of the property and explaining his findings with us.
Katie - QLD
Fast and efficient.
Susanne - QLD
I was happy with the service from the initial phone booking, the inspection itself and also the report.
Dorothy - QLD
Great inspection! Thanks.
Kirwan - QLD
Thoroughly impressed with the inspection process.
Kylie - QLD
I couldn't be happier with the service I received. A very thorough inspection and extremely detailed report that was easy to understand.
Kylie - QLD
Andrew was very good.
Fadi - QLD
I have used Andrew for 3 properties now. Extremely happy with service. Will ALWAYS use Andrew in the future.
Dave - QLD
Very thorough.
Gabrielle - QLD
Andrew was very thorough with the building inspection. He noticed building faults that had not been picked up in the previous building inspection.
Gabrielle - QLD
Very professional service - Andrew is quite knowledgeable & very helpful in explaining areas that needed rectifying. Reports are very easy to understand. I would be happy to recommend Resicert.
Vanessa - QLD
Very thorough.
Robyn - QLD
Thorough, efficient and friendly service.
Lara - QLD
Andrew was knowledgeable, thorough, helpful and professional.
Jenny - QLD
The inspection and eventual report were professional and thorough.
Terry - QLD
Very pleased with my inspection by Andrew.
Rachel - QLD
Took us around the property explaining the process. Feedback was promptly and the report was done that afternoon.
Cara and Sean - QLD
Very friendly when we first contacted Andrew. Explained the process very simple. Organised our inspection. Communicated effectively and timely. Easy payment option.
Cara and Sean - QLD
On-time, diligent, detailed report and friendly.
Ben - QLD
Andrew was fantastic to deal with and very professional. he was recommended by a friend of mine and exceeded our expectations we were also available any time of the day/night to discuss the process and the findings we were very lucky to have him!
Tony - QLD
Really thorough inspection and report.
Jeanne - QLD
Wonderful service and really appreciated the understanding that the inspection was for my 84yo mother-in-law.
Jeanne - QLD
Was great to have a lot of advice provided on ways to prevent the attraction of pest which was very valuable.
Nova - QLD
Professional advice alerted us to the fact of an active nest which was immediately treated by the real estate agent - thank you!
Peter - QLD
Timely, professional, experienced and sound advice to help us make a significant financial decision - thank you!
Peter - QLD
Andrew was extremely professional and went through the inspection outcome very thoroughly.
Paolo - QLD
Great and prompt feedback.
Andrea - QLD
As requested, the inspection carried out by Andrew on the date/time agreed and answered all my questions after he finalised his job. Andrew provides meaningful advice regarding future actions that might be required after the inspection.
Dan - QLD
Very helpful and genuinely has my interest at heart.
Mike - QLD
Very thorough and willing to explain and talk through all areas of the report.
Luke - QLD
Very good service from Andrew. I would recommend him for future inspection.
Luke - QLD
Andrew conducted a thorough inspection and report.
Rebecca - QLD
Andrew was very professional and practical. He was thorough with his inspection and reports.
Rebecca - QLD
Very professional, great report.
Stephanie – QLD
Very professional, an excellent report would use again.
Stephanie – QLD
Good thorough inspection at short notice!
Andrew - QLD
No issues with this.
Andrew Teston4
Comprehensive as always!
Sam - QLD
Andrew said there were no signs of pests atm but did show us where we had to be careful and that we need to keep the weep holes clear at all times We are taking his advice very seriously and will be changing the garden bed so we can have good clear vision of what's happening around those holes!
Vicki - QLD
I am so happy to have had Andrew do my building inspection He was so thorough and knowing all the things that were a concern made it possible for us to negotiate with the owners to get the major things fixed whilst we happily overlooked some other less worrying problems. Having a good idea of what are the more pressing concerns makes it easier to decide what we will and won't accept I am so grateful to Andrew for his meticulous work inspecting 25 Harrogate for us. My family and I are very grateful.
Vicki - QLD
Excellent and extremely thorough inspection, with a comprehensive report written, grateful thank you to your team members.
John - QLD
Andrew was thorough and informative. Excellent service.
Stavros - QLD
Andrew was recommended to me by someone who said he is very meticulous and professional I found this to be true He is extremely good at his job and will gladly recommend him to anybody I meet.
Frank - QLD
Great guy, very knowledgable.
Brad - QLD
Andrew was incredibly easy to work with and went above and beyond to ensure that a thorough job was done.
Anthony - QLD
Andrew gave us great advice on how we can avoid termite infestation going forward.
Dave - QLD
Extremely happy and most appreciative of Andrew's help. We used him for 2 properties - on the first one, Andrew identified some major issues. He was extremely diplomatic in the way he communicated these to us. Gave us all the information, stuck to the facts and answered our questions. Was also a terrific bloke.
Dave - QLD
I highly recommend Andrew from Resicert and Resicert's services. The report provided contains a great level of detail for each item and the team was very professional doing a thorough inspection of the property. Also, the team was on time and their level of customer service is fantastic.
Veronica - QLD
Found things we did not know existed on the property.
June - QLD
Courteous and efficiently professional.
June - QLD
He did a very thorough job!
Tom - QLD
Thank you for your prompt, honest and very thorough service. Fantastic!
Adrienne - QLD
Both reports were well written and easy to read. We appreciated his honest feedback on the property.
Stephanie - QLD
Andrew was very professional and thorough. He provided sound advice and gave detailed explanations.
Stephanie - QLD
Very friendly. A lot of attention to detail. The report is fantastic!
Rebecca - QLD
Thank you for a job well done and promptly.
Paul - QLD
Very detailed, helpful report and communication.
Chris - QLD
Inspection was booked and carried out quickly. The reports were very detailed and we received them within a day or so.
Deborah - QLD
Andrew was great and I was very happy with the thorough, detailed report provided. It really gave me an insight into everything that needed to be done to the home and make sure there were no nasty surprises waiting for us. Would happily recommend Andrew to all.
Cameron - QLD
Andrew was excellent. Very helpful, walked me through everything and was patient with all my questions.
Jeff - QLD
Andrew is very thorough. Will use him again for sure.
Nicky - QLD
Very happy with Andrew's service! The report was very detailed and all explained well.
Karen - QLD
Andrew was very pleasant and appeared to be very thorough.
Gabrielle - QLD
Andrew was great. He explained things so easily and gave advice when asked. Very thorough.
Danielle - QLD
Very pleased with the level of service provided by Andrew.
Jack - QLD
Andrew went above and beyond what we have had before.
Mark - QLD
I've had several inspections done over the years and I actually found an old one the other day, it was two page document that had no pics and no recommendations and the 1st page was all their rules and regulations so Andrew was great, thorough and the report was very detailed. I've already used him twice and would use again!
Renee - QLD
I felt confident that Andrew was a thorough practitioner.
Lesley - QLD
Andrew was fantastic to deal with. I left everything to the last minute and Andrew moved things around to accommodate the inspection. I was kept informed all the way and received a call to let me know of what he had found and a very prompt and thorough inspection report. Thanks to Andrew and the team at Resicert.
Barry - QLD
Andrew was great and he did inform me all about the inspection and what he has found and where possible even showed us where the issues was.
Ehsan - QLD
Excellent service with a straight talking inspector. Provided a full 20 page report with clear photos and description that anyone could make sense off. Found 1 cracked roof tile, Andrew took it upon himself to replace the tile with a spare he found at no extra cost. I'm very impressed and will be recommending to everyone.
Conor - QLD
Andrew was very friendly and knowledgeable and made the effort and time to explain all the details on the report. Will definitely be contacting Andrew for future QLD purchases.
Hung - QLD
Very detailed and useful report. Andrew was never too busy to discuss issues contained in the report, very punctual and knowledgeable.
Emma - QLD
Previous
Next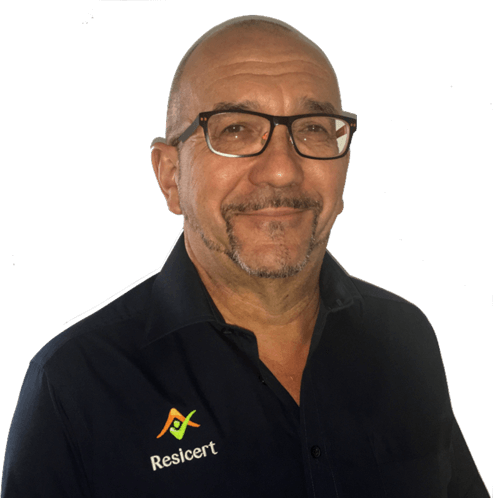 Get in contact with Andrew