Building and Pest Inspection in Altona Meadows , Sunshine West, Yarraville, Williamstown and Surrounds.
Vikram Gulia is a Licensed Building and Pest Inspector of Resicert. He is a dedicated professional, trained to identify existing and potential structural and maintenance issues, as well as possible termite activities or conditions which attract them. His experience coupled with extensive specialist training delivers the highest standard of inspection.
Resicert backs all inspections with a 100 % money back guarantee, so you can be confident in receiving exceptional service from Vikram. 
For a number of years, he ran a successful telecommunication installation and maintenance business specializing in fibre to the premises and fibre to the curb, providing extensive experience across a broad range of properties. He is a self motivated individual, who also has professional experience in banking, finance and accountancy. His wife is a real estate professional, so it's natural for him to be passionate about helping clients buy and sell properties with confidence.
Vikram has participated in and won club level competitive tennis tournaments and likes to play and spend time with kids on the court and in the pool. His favourite player is Roger Federer and he loves attending the Australian Open at  Rod Laver Arena.
Call him now for confidence and peace of mind about your property. Because we believe whether you're buying, selling, building, renovating, or investing, Don't expect, inspect!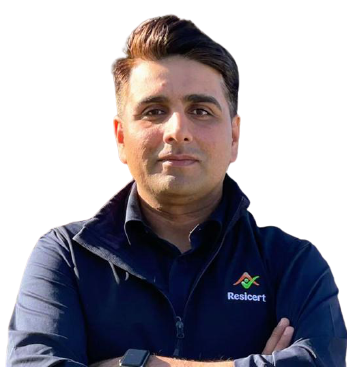 Get in contact with Vikram