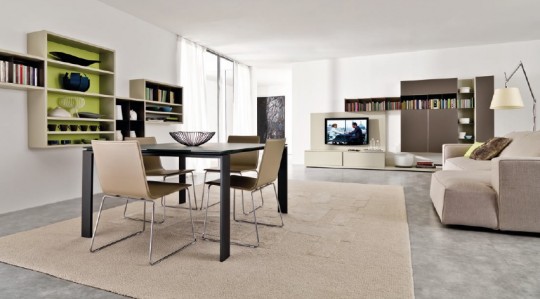 Even at first glance, the "theme" of your home should be very clear. Are you going for something traditional? Contemporary? Ultra-Modern? You do not have to overboard with your decorations. Subtle is good.
You can create a flow to your home design without drawing attention to anything in particular. You just need to observe simple consistency in your home design. This will help create a good "flow" from room to room. If you are having your home constructed or having it renovated, try to stay true to your the basic architecture of your home. This article will help you tie the rooms in your home in order to create a good flow while still ensuring each room's subtle identity.
Nowadays, all people can talk about is creating "flow". If you would talk to any architect or interior designer, they would tell you that most homeowners prefer an open and flowing design for their homes. They do not want to be burdened by claustrophobic rooms that are designed for specific functions.
Nowadays, new homes feature far more open designs, allowing for extraordinary flexibility. These floor plans allow gatherings to flow out of the dining room or living room into adjacent rooms with no loss of sociability, or assume an appearance of privacy when necessary. They also permit interior spaces to serve new functions with each new day. The result is a home where rooms take on different personalities as events and spatial needs change.
Consistency is the key to making your home flow. This is actually the key component to a "flowing" home. There should be consistency in colour, tone and décor. This will ensure that your home will freely flow from room to room. Here are a few tips on how to create flow and flexibility to your home.
1. Colour. The colour you choose for your home affects the flow you would like to create. The wrong colours can spell disaster for your home. Colour affects your mood. The right shades can do wonders for your mood. Choose your colours wisely, and make sure that they match your furniture and the structure of your home. You do not have to use the shame shade. You just have to stick with colours from the same family. If you choose warm colours, then choose the same colours for the rest of the house.
2. Furnishings. You need to acquire or purchase pieces that are of the same or similar style from room to room. The fabric, style, colour of your furnishings should match or complement one another. The lines should be the same, so they will create an easy flow between spaces. Ideally, they should also have the same finish. Bathroom fixtures that are made of polished brass will likely clash horribly with cabinetry with nickel finish. The same thing applies all over your house. If you would like your home to flow from room to room, you need to stay with the same finish. Your hardware, ceiling fans, faucets, door knobs – they should have the same finish. This will ensure a fluid flow from room to room.
3. Moulding. Your mouldings should match. Nothing looks more uneven or stilted than mouldings and trim works that do not match or suit each other. The wood casings should match one another. Choose among the colours in the colour wheel, and then stick with this shade consistently throughout the house.
4. Decorations. The rooms need not be duplicates of one another. You can create a unique style for each, but you have to make sure that they blend in together in order to ensure a flow. If
your kitchen has a country theme, it may not be a good idea to have an ultra sleek modern design for your living room. Make sure that all the rooms complement one another.
5. Sliding doors and archways. These are actually the key to creating fluidity and flexibility within spaces. Nowadays, these doors have taken in a larger role in room decoration. These things can be easily place on walls to create openness. The dining room won't be too confining if it is easily connected to the living room or family room. They allow seamless movements through your home.
It may take a while to achieve the results you want. After all, not everyone has the resources to make the necessary changes immediately. You can do small renovations. Start with one room and then slowly move your way to the next room, until you have finished all the rooms. Set small goals until you create the effect you would like to achieve.