HAVE YOU HAD YOUR PROPERTY INSPECTED FOR TERMITES?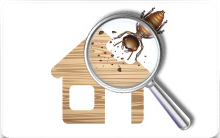 A Pest Inspection report NEEDS to be carried out on your property regularly, whether you have lived in it for years or are preparing to buy a new property. One in three houses in Australia will at some stage be affected by termites – a FRIGHTENING statistic! Yet, some people are willing to let it all come CRUMBLING down because of an invader that's only a few millimeters tall!
WHAT ARE THE FINANCIAL DANGERS?
Timber pests (TERMITES) can cause costly damage if allowed to go unchecked and can reduce the value of your property. Everyone should be made aware of the FINANCIAL dangers that can be eliminated just by having an annual Pest Inspection.  DAMAGE from Termites can end up costing THOUSANDS of Dollars.
WHAT ARE TERMITES?
Many insects are CONFUSED with termites, especially ants.  Termites are sometimes referred to as 'white ants' because of their pale appearance.   Termites feed on wood, frequently becoming PESTS in homes.  IDENTIFYING the unwanted house guests can be DAUNTING!
CALL IN THE EXPERTS!
For peace of mind, and to make sure you don't end up with COSTLY termite DAMAGE, just hop online, or pick up the phone to get an instant quote. TODAY!

WHY CHOOSE RESICERT?
• Easy to understand reports. See attached.
• Fast and Ef?cient Property Inspections
• Inspection report according to Australian Standard AS4349.3-2010
• 100% satisfaction money back guarantee
• To see what our clients really think about us, CLICK HERE